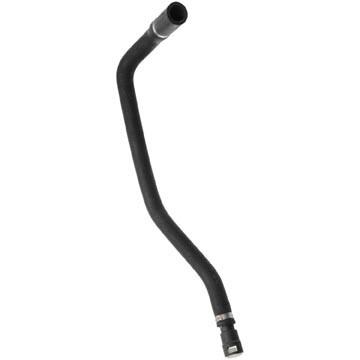 Dayco 87793 HVAC Heater Hose
Description:
Part Specifications:
Hose Type : Single I.D. Hose
Trunk Height : 21
End 1 Inside Diameter (Describes Inside Diameter Of End) : 3/4
End 2 Inside Diameter (Describes Inside Diameter Of End) : 3/4
Contains Protective Sleeve : N
Contains Heat Shield : N
Color (Describes Color) : Black
Material (Describes Material) : EPDM
SAE Specification : SAE J20R3 Class D-1, SAE J1684 Type EC
Features:
Dayco® Small I.D. Molded Heater Hose is designed to replace OEM coolant hose and provide long, reliable service. Made with the same bends and routing as the OEM assembly, this hose is designed to fit the vehicle precisely. The knitted reinforcement and synthetic EPDM construction provides high strength and resistance to detrimental environmental elements, coolants, and temperature variations of -40°F (-40°C) to +257°F (+125°C). In addition to meeting SAE J20R4, Class D-1 requirements, this hose is designed to meet Type EC electro-chemical requirements as specified in SAE J1684. This hose has a "quick connect" end assembled onto the hose for fast, convenient installation. With this Dayco® product you avoid the hassle of buying a separate connector and clamp and having to install it before the hose can be used.