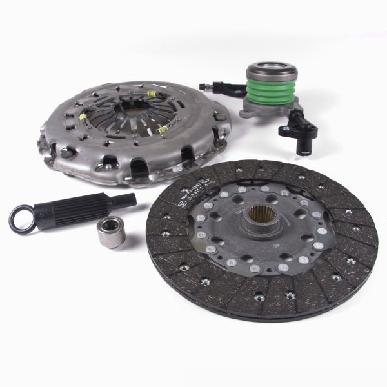 LUK 11-040 Clutch Kit
Description:
LuK OE Quality Replacement Clutch Set
Part Specifications:
Clutch Disc Diameter (Describes Measurement) : 9-7/16"
Clutch Disc Spline Quantity (Describes Quantity) : 26
Input Shaft Diameter (Describes Measurement) : 1-1/8"
Pressure Plate Type (Describes Type) : Push Type Diaphragm
Clutch Plate Facing Outer Diameter : 9-7/16"
Kit contents : Cover Assembly, Clutch Disc, Slave Cylinder,all Necessary Pilots, Accessory Pack
Features:
LuK: The brand professionals trust! For over thirty years, automotive aftermarket technicians have staked their reputation – and their customers' satisfaction – on LuK RepSet® clutch components. Each set contains everything you need to get the job done right: new clutch, disc, release bearing, pilot bearing (where required), spline tool and lubricant. As an original-equipment supplier, LuK develops the performance specifications for individual vehicle applications. LuK offers the highest in-house manufactured content of any supplier in the industry.